Syed Qutub Interpreted The Following Part Of The 44th Verse Of Surah Al-Maida To Buttress The Same Argument: "Those Who Do Not Rule [Over The Earth] By What Allah Has Revealed Are Indeed The Infidels"
------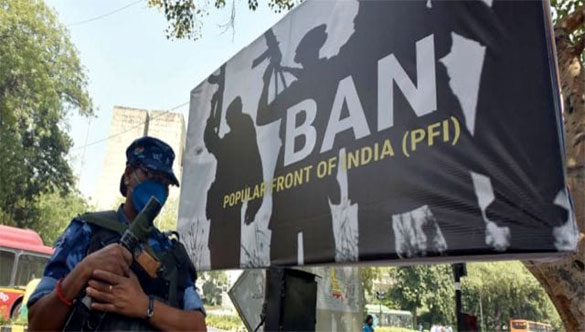 Hasan al-Banna founded the Muslim Brotherhood (MB) aka Ikhwanul Muslimin in 1928 in Egypt. But it was replicated with greater ideological momentum in British India. With the establishment of Jamaat-e-Islami in 1941 by the Indian Islamist ideologue, Syed Abul A'la Maududi whose writings actually inspired global Islamist movements including the 1979 Islamic Revolution of Iran, the doctrine of "Hakimiyyah" (an Islamic dominion on earth) gained palpable traction in the new generation of Muslims in India. In this theological worldview which was theoretically developed by Syed Qutub and further buttressed in Urdu by Maulana Mawdudi, every modern, liberal and democratic form of governance was castigated as akin to "shirk" i.e. associating partnerships with Allah [in His sovereignty]. For instance, in his famous commentary on the Qur'an titled, Fi Dilalil Qur'an (In the Shade of the Qur'an), Syed Qutub interpreted the following part of the 44th verse of Surah al-Maida to buttress the same argument: "Those who do not rule [over the earth] by what Allah has revealed are indeed the infidels".
An extremist interpretation of this verse propounded by Syed Qutb and Maulana Mawdudi catapulted Islam from being a spiritual path of salvation into a religion of political dominion, and thus consequently has created chaos in the Muslim world for decades. But India was immune to this threat, thanks to the pluralistic Islam of Sufi Mystics until the political Islamist organisations and radical outfits were given birth mainly in the peninsular part of the country from the womb of Jamaat-e-Islami and at the behest of Ikhwanul Muslimin (Muslim Brotherhood).
It was during the 1990s when Kerala first witnessed the self-styled Islamist doctrine of Hakimiyah, with the establishment of an Islamist outfit, Muslim Aikya Sangham, by Vakkam Abdul Qadar, popularly known as Vakkom Moulavi. Influenced by the thoughts of Syed Qutub and Hasan al-Banna, Vakkom Moulavi championed pan-Islamism for the Muslims of Travancore, Cochin and Malabar regions. He was instrumental in creating an "Islamist renaissance" in Kerala through Arabic and Malayalam literature like The Muslim (1906), Al-Islam (1918) and Deepika (1931). Through these publications, he tried to preach puritanical Salafism, purging the Keralite Muslims of local festivals like the Nerchas and Urs. Thus, his proselytes deviated from Islamic postulates and principles reflecting Kerala's ancient Muslim heritage.
As a matter of fact, the advent of Islam in South India is attributed to the early Sufi saints, who reached the coastal areas of Malabar. Hazrat Malik bin Dinar, a mystically inclined companion of Prophet Muhammad (pbuh) was the earliest preacher of Islam in South India. The first mosque in Kerala, built in 603 AD and known as Malik Dinar Masjid, is located in Kasargod, with an adjacent graveyard and is embellished with gravestones, known as Mizan-stones. Remarkably, this foremost Muslim in Kerala greatly inspired the noted mystics of Islam in Arabia like Hasan al-Basri (R.A) and Rabia al-Adawiya (R.A). In fact, he professed and practised the Sufi notion of 'jihad bin-Nafs'—inner jihad against one's baser instincts—in contrast to the offensive jihad. He also showed a wide embrace for all faith traditions in India and was also greatly inspired by the spiritual ideals of Jesus Christ. As recorded in history, Malik bin Dinar memorized various chapters and commentaries of the Bible along with the Qur'an. Thus, he was an epitome of peaceful coexistence with Christians and other non-Muslim communities living in the then-Indian subcontinent.
Now, let's keep in view that Malik bin Dinar's broader notion of Islam made it mandatory for him to be kind and compassionate with his Christian neighbours. So, what was the stimulus behind the audacity of modern radical Islamists in Kerala chopping off a Christian professor's hand in Idukki? Clearly, the political Islamist ideologues held the pluralistic Islam of Malik Bin Dinar hostage in Kerala, swaying a section of the Keralite Muslims from inclusivism to brutal religious extremism and exclusivism. There has been a continued wave of radicalisation in Kerala and the Malabar region as a result of the extremist outfits which have camouflaged political Islam in the name of the "fight for Muslim rights".
Today, there are two major groups of Muslims in Kerala diametrically different in thought and action: Sunni Muslims and Mujahid Muslims. While the Keralite Sunni Muslims are believed to be pluralistic and peaceful, the "Mujahid Muslims" in Kerala constitute the "puritanical" Salafis often indulging in communal and sectarian clashes. For instance, on September 6, 2017, they razed the tomb of a Sufi saint Muhammad Swalih at Vazhikkadavu on the Nilambur-Ooty road. A piece of paper stuffed inside a bottle was recovered from the vicinity. The words written on it in Malayalam were: "I am going to the Arabian Sea". In their protests, the Sunni-Sufi leaders came down heavily on the Salafis. K.P. Jamal Karulayi, district leader of the Sunni Yuvajana Sangham said: "Wahhabism should be thrown into the Arabian Sea."
Regrettably, as a result of enormous wealth from the gulf countries, radical organisations have been by and large successful to woo the gullible Muslim youths in South India. As a result, the mainstream Keralite Muslims are concerned that the pluralistic ethos they have inherited from their peaceful predecessors, was under attack, while the Ikhwani thoughts were spawning across South India through an active role of radical Islamist groups.
On top of such radial Islamist outfits was the Kerala-based Popular Front of India (PFI) which, since its inception in 2007, finds itself embroiled in various incidents of violent extremism from creating the blasphemy killers to turning the nationwide Hijab protests into a tool of inciting violence. However, the PFI cannot be understood without grasping the deeper ideological dynamic. It claims to be an NGO, but pledges allegiance to the Muslim Brotherhood (Ikhwan-ul-Muslimin) and has had alleged involvement in terror activities like chopping off the Christian professor's hand in Kerala's Idukki, and running the "Islamic State Al-Hindi Module".
As reported, the PFI's origins lie in the National Development Front (NDF), a state organisation that operated in Kerala during the 1990s with an aim to safeguard the interests of the Muslim community. The NDF was founded in 1994, two years after the demolition of the Babri Masjid. Incidents of communal conflict increased dramatically in Kerala as the NDF's popularity increased. Some of its members were detained in 2003 for rioting and the death of eight Hindus in Kozhikode, Kerala's Marad Beach. Three Muslim organisations in southern India, the National Democratic Front in Kerala, the Karnataka Forum for Dignity, and the Manitha Neethi Pasarai in Tamil Nadu, came to unite into one organisation, at a meeting in Kozhikode in November 2006. This is how the PFI was established in February 2007.
Now what we have learnt from various media sources is that PFI faces a nationwide crackdown, raids and the arrest of its leaders and active members. Around 106 people have been detained as a result of the searches in 93 different locations, including 22 people in Kerala, where even PFI chairman OMA Salam was arrested. Moreover, 20 arrests have been reported each from Maharashtra and Karnataka, 10 each from Tamil Nadu and Puducherry, 9 each from Assam and Uttar Pradesh, 5 each from Andhra Pradesh and Madhya Pradesh, 4 each from Madhya Pradesh and Delhi, and 2 each from Rajasthan. All this has reportedly been done as a result of a probe into the PFI's potential ties to the Islamic State and other terror-related activities. Now the PFI and its general secretary are being sued for contempt by the Kerala High Court for organising a dawn-to-dusk Hartal there. In response to the state-wide raids, the radical group declared a "flash bandh," which resulted in violence, rioting and stone-pelting. The Indian government has maintained that the PFI has indulged in actions detrimental to the internal security of India. Investigators have accused the outfit of pursuing a secret agenda inspired by radical jihadism. The NIA has revealed that PFI cadres impart training in the use of explosives in isolated places and promulgate a narrative of victimhood among Muslim youth.
But the question is: will merely banning radical Islamist outfits like the PFI put an end to radicalisation in India? Has the government's earlier crackdown on the radical Islamist preacher, Zakir Naik and his outfit Islamic Research Foundation (IRF) brought any tangible developments on counter-radicalisation or de-radicalisation in India?
Merely mulling a crackdown on radical institutions is pointless unless a better alternative is systematically evolved as an organic development within the community. Indian Muslims must be enabled to strengthen their pluralistic Islam through spiritual centres, Khanqahs (Sufi shrines) and modern educational institutions in order to rescue young and impressionable Muslim minds from being misguided. Given the meagre resources they have, they are unlike to undertake this gigantic task unless the government develops a genuine will.